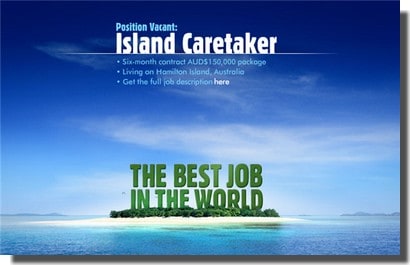 Sur un total 34.684 candidatures, ce Lyonnais de 23 ans, assistant marketing Online fait partie des cinquante postulants retenus pour obtenir le «meilleur job du monde»…
Best job in the world est le concours qui buzz en ce moment plus de 34.000 candidats ont postulés par vidéo et autres moyens marketing pour obtenir ce job de rêve dans une île paradisiaque du QueensLand. Ben Henri est un des candidats à ce poste de concierge au paradis,donc si Ben Henri gagne le concours Best Job In the World, il gagnera un CDD de 6 mois dans une île paradisiaque au bord de l'australie!
Un CDD de gardien de l'île Hamilton[1] payé 12.500€ par mois pour se dorer la pilule sur les plages, nager avec les dauphins, les tortues ou les poissons clowns dans une eau à 28°C… Seul boulot remplir un blog avec photos et vidéos.