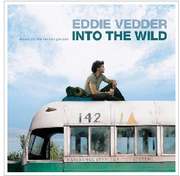 Eddie Vedder, le légendaire chanteur de Pearl Jam,se la joue solo , le temps de la bande originale du film «Into The Wild», de Sean Penn.
Eddie Vedder chanteur de Pearl Jam sort prochainement son premier album solo qui sera la bande sonore du film Into The Wild. en effet, Hard Sun 'de Vedder apparaitra dans 'Into the Wild ', avec d'autres ballades folk. Sean Penn, le réalisateur du film a demandé à Vedder de lui fournir une musique pour son film, dans lequel Emile Hirsh et Vince Vaughn ont les premiers rôles.

"Hard Sun" by Eddie Vedder
La B.O de Into The Wild par Vedder sortira le 18 septembre. Le film de Penn le 21 septembre.